Don't forget...we want your stories to be published right here! Any story you might have about you and your pet. Let us know.
We would love to hear from you!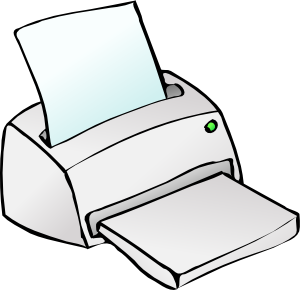 Click
here
for the
printable version of
the newsletter

Hey, FluffyBuddies! It's ME, Samson! Yippee, I am getting control of the computer. See, I have to wait until nighttime to do my newsletter,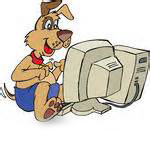 because that's when Mom falls asleep with the computer on. Then I can quick type up all the news, and go back to snoozing innocently. When she wakes up, I can convince her that SHE is responsible for the words, and just doesn't remember doing it.
It pays to be a smart long-haired German Shepherd.
All is well in our house. Spike has had an ear infection, and Mom took him to the vet person she trusts so much. He gave her medicines, good advice, and sent her and Spike home. Spike seems to be doing a lot better.
Blossom has been very good, too. She still loves blue guy and his friends. She still lets them swim in the water dish from time to time. I look, they seem fine to me, like maybe just doing a back float or something, so I leave them alone. Mom thinks they are drowning and gives CPR. Sigh. Anyway, Blossom, Spike, and even that spooky guy Scout have all been spending time with ME in the living room. Mom thinks they are coming to see her, but I know better. They come to see me, and hope that treats will be involved. Sometimes, there are! Why, Scout and I have become good buddies! And, just this morning, when I went out for a little walkabout (ahem), when I came back, Spike was keeping my dog bed warm for me! Wasn't that thoughtful? I thought so…and let him nap there because he was so considerate.
I don't remember if I told you about the deer that crossed the road.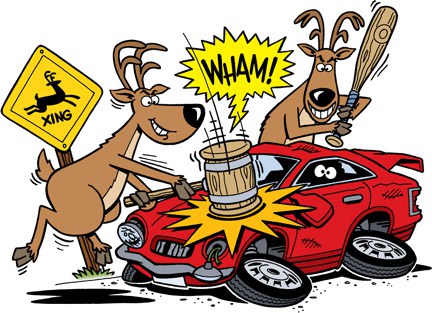 I know it was mentioned on Facebook, but I only hack Mom's Facebook page now and then. Mom and the deer met, the deer didn't like the front end of the car and voluntarily rearranged it, no charge, which did NOT make Mom happy. Mom stopped the car for the deer to do its work, so I don't really understand the dynamics of the relationship, but after Mom said a couple bad words, the deer didn't stay around to explain the new look. I didn't get to see it – I was busy picking myself up from the floor in the backseat of the car.
Just a few days prior to the deer incident, Mom stopped very suddenly on the Parkway thing. She said bad words then, too, but I don't know what they are, because she never uses them with me. Anyway, there was this other vehicle that apparently wanted to meet Mom RIGHT THEN, and Mom wasn't happy about it. They didn't meet, but it could have been ugly because I mean it when I say Mom was in a bad mood just then. I only mention this to explain how it is I don't get hurt in these instances. You see, I pad the floor with all my stuffed toys. I take one each day and place it carefully so that if I go flying across the seats and get dumped on the floor, I am safe. Works, let me tell you!
Mom told me that she hates to bring up certain subjects in letters, so I think I am going to cover this one for her. Don't blame her, I volunteered for this.
Mom does not like raising rates. As a matter of fact, she HATES raising rates. So she does it only after a long, careful consideration. And after much conversation with us on the FluffyBuddy Board of Treats, here is the new schedule. Please look it over, and if you have any questions, let Mom know.
All rates are going up 50 cents per visit. This is less than a 3.4% increase.

For people who book their reservations more than 30 days in advance of their departure, this is what your new rate looks like:


| | | |
| --- | --- | --- |
| | 15 min. visit | 30 min. visit |
| Dogs | $15.50 now 16.00 | $18.50 now 19.00 |
| Cats, Fish, or Birds | $14.50 now 15.00 | $17.50 now 18.00 |


If you book 15 to 29 days in advance, your new rates will increase by a dollar more per visit.
If you book 11 to 14 days in advance, your new rates will increase by two dollars more per visit.
Less than ten days in advance of your departure will be at that highest rate, but you risk not having a slot available for your pets.

This is necessary for a host of reasons, but the most important being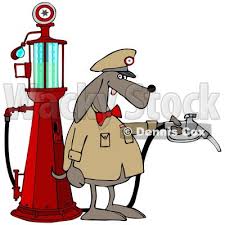 when Mom has to juggle her schedule, it takes a great deal of time and planning. This is time she needs to be doing other things, like caring for ME. It is all about me, you know. Why else would Mom be working so hard, if not to support ME? Oh, and the cats and Sweetie. Oh, yeah, I think she said something about rising gas prices, and the costs of living. I don't understand that too much as my cost of living is not my problem.
Anyway, if you have any questions, please let me know. While the answer to ALL questions is always "I need a belly rub," I will be happy to explain things – or get Mom to explain while I get that belly rub!
Hoping you have a great summer, and lots of vacations! Don't forget to bring treats and toys back home with you.