It's supposed to be SPRING!


Samson wrote a newsletter in the winter, but he forgot to tell me, so it never got sent. I told him it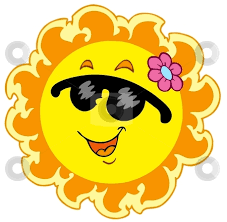 was too late now to talk about what Santa Paws brought him and the cats (and Sweetie) for Christmas, and
while he pouted for a minute, he then saw a squirrel out the window, and it was forgotten.
We here at FluffyPaws have been very busy this winter! It's the winter that never ends! I hope by the time you are reading this, the sun is shining again (it's the big yellow thing that sometimes is in the sky, surrounded by blue, in case you forgot).
I thought it might be interesting to share some statistics with you. After all, what else is there to talk about when it is either snowing, blowing, icing, raining, or all of those?
So I did a survey of my own, and then looked over the National Statistics, as provided by Pet Sitters International.
I currently have 170 active clients (that's human clients, because they pay the bills). Animal clients are a lot more!
Of those 170 active customers:
Married w/kids or grown kids that have dogs & cats -- 3%
Married no kids that have dogs & cats -- 12%
Single man w/dogs -- 2%
Single woman w/dogs -- 8%
Single man w/cats -- 3%
Single woman w/cats -- 17%
Single man w/dogs & cats -- 0%
Single woman w/dogs & cats -- 3%
Married w/kids or grown kids that have cats -- 8%
Married no kids that have cats -- 33%
Married w/kids or grown kids that have dogs -- 7%
Married no kids that have dogs -- 2%
Houses with other small animals or birds only -- 2%
Of the 170 customers:
40 houses have 1 cat
16 houses have 1 dog
36 houses have 2 cats
10 houses have 2 dogs
28 houses have dogs & cats
28 houses have more than 2 cats
8 houses have more than 2 dogs
4 houses with small pets or birds
Pet Sitters International surveyed 1,000 homes. Here are their results:
41% of the people surveyed said they get their pet sitters from a "trusted source" like a referral from a friend.
28% say that years of experience is very important to them.
Price, Business Credentials (such as licensed, bonded, insured, etc.), experience with pets, and education among other unnamed reasons make up the rest of the percentages.
That's a lot of information, but based on my expert observations, what this means is this:


People like animals.
People like people who like animals.
People like pet sitters who like animals.
Pet sitters like animals.


See, aren't I smart? Seriously, the interesting thing to me is that pie chart at the bottom of the page. In bold color, it tells me that I give you peace of mind. Your pets are cared for as if they were my very own. Why?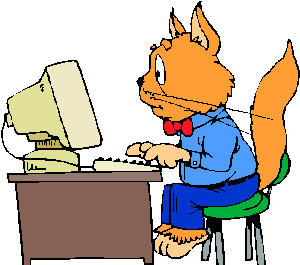 Because from the moment I meet them, they are mine. You entrust them to me, and I fall in love with them, each and every one. When they miss you, I try to make up for that, and remind them that you will be back. When they need to play, I play. When they are hungry, I feed them. I talk to them, clean up after them, and spoil them. I love my job! I love what I do!
What I want to know is what that 15% of "other" reasons for hiring me might be! If you had other reasons for hiring me that are not on that list, please let me know what they were! I am curious.
Also, as you can see, with 68% of people finding peace of mind, experience and credentials being their main reasons for hiring a professional, it's time to think about your summer, holiday and weekend getaway plans! If you are going away for more than a day or more, please book me as soon as you KNOW. That way you can be assured of a spot on my calendar, and your pets will be safe, happy and well-loved in your absence! It's NEVER too early!
Wait…
What's that, Samson? Hmmm? Oh, okay…Samson wants to say something.


Hey! Hi! I want to tell all of you that I am also on the job. Mom makes it sound like she does everything all by herself, but that is absolutely not true. I go with her every day! EVERY SINGLE DAY! I first have to make sure she gets up on time, you know, because we always have a very full schedule. Once she's up, I have to see that she gets everything done in the house before we leave, so I make sure the cats are fed, and the bird cage is uncovered. I nose her to my food, just in case she would forget, but I am so important to the job that I know she really would never neglect me. Sometimes she forgets to put a cup under the coffee spout while it's making, but she never forgets about me.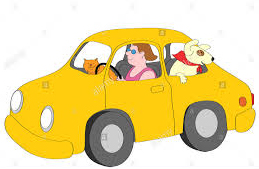 Then we go to the car, and I remind her that I need to ride with someone to keep me company while she's driving or in your homes. I choose one of my best toys to ride along – and they take that privilege very seriously!
Once we are on the road, I am her navigator. I make sure she takes the best routes, and I watch for on-coming
traffic or snow plows or any detours that could cause an issue. I am very good at my job. When she pulls into your
driveway, I watch to be sure there is nothing in the way, and I pay close attention to the surroundings, so that no roaming dogs or crazy wild cats attack her while she is coming into your home. When she comes back out, I watch to see she has locked up properly, then it's time to navigate again. It makes for a long day, but it's my job, and I do it very well. Now that my legs are healed up, when we get home, someti
mes we go for a walk, but it's been so cold I don't want to go very far. I'd like to start running again.
I have to stay in shape to do my job. Mom cannot do it alone!
When we get home, there is a very special treat that I need for energy and strength. I thi
nk th
ey are the very bestest, deliciousest treats in the whole world. They are so special that Mom keeps them in that big huge box in the kitchen that is always cold inside. They are my favorite favorite treats, and they
are like a sausage! A couple weeks ago, Mom seemed to forget that those are NEC
ESSARY for my very survival, and so I tried to remind her. I went to that big box, and pointed to it, see?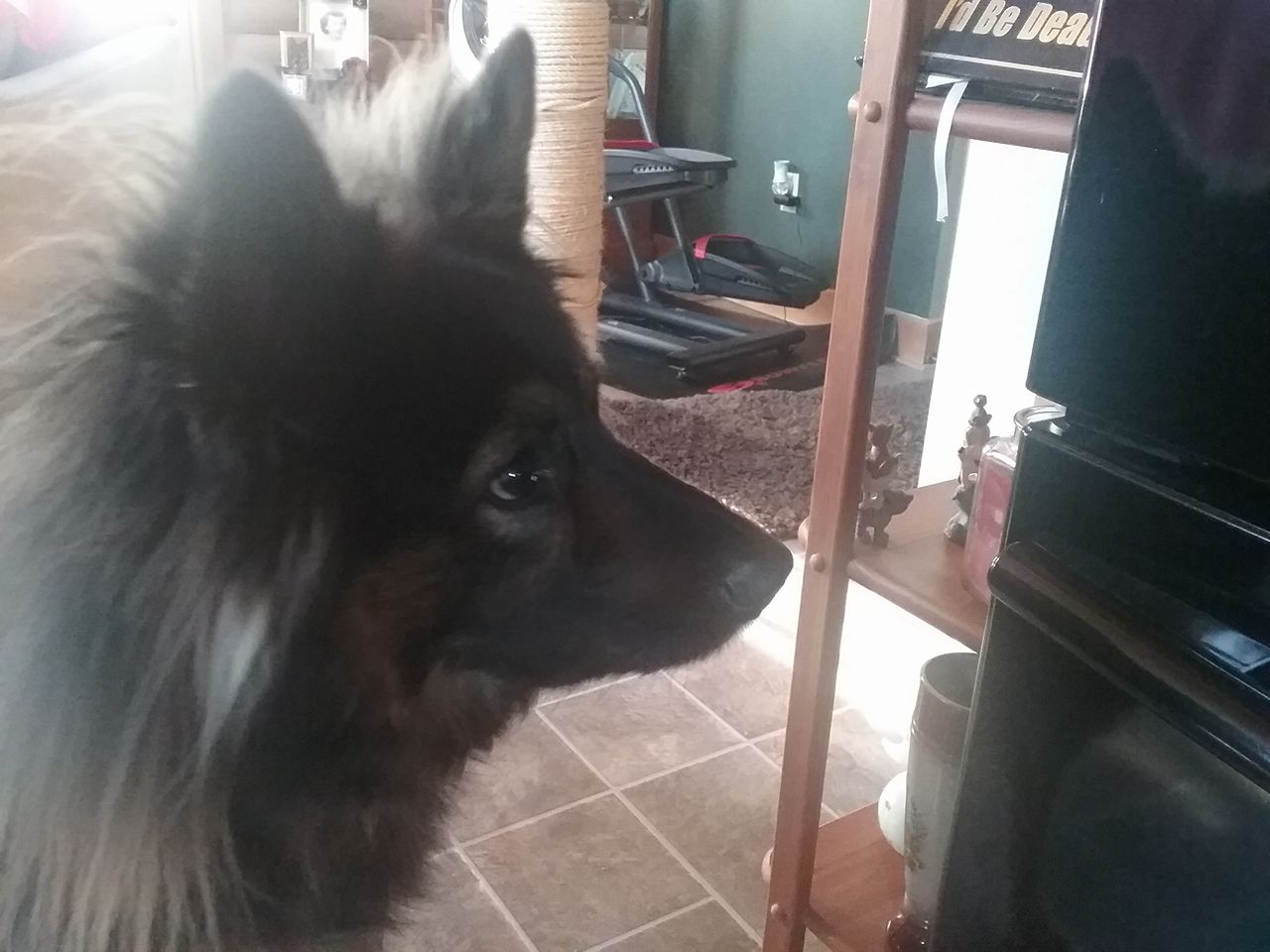 And just so she wouldn't misunderstand my intentions, I made SURE she knew EXACTLY what I was pointing at, see?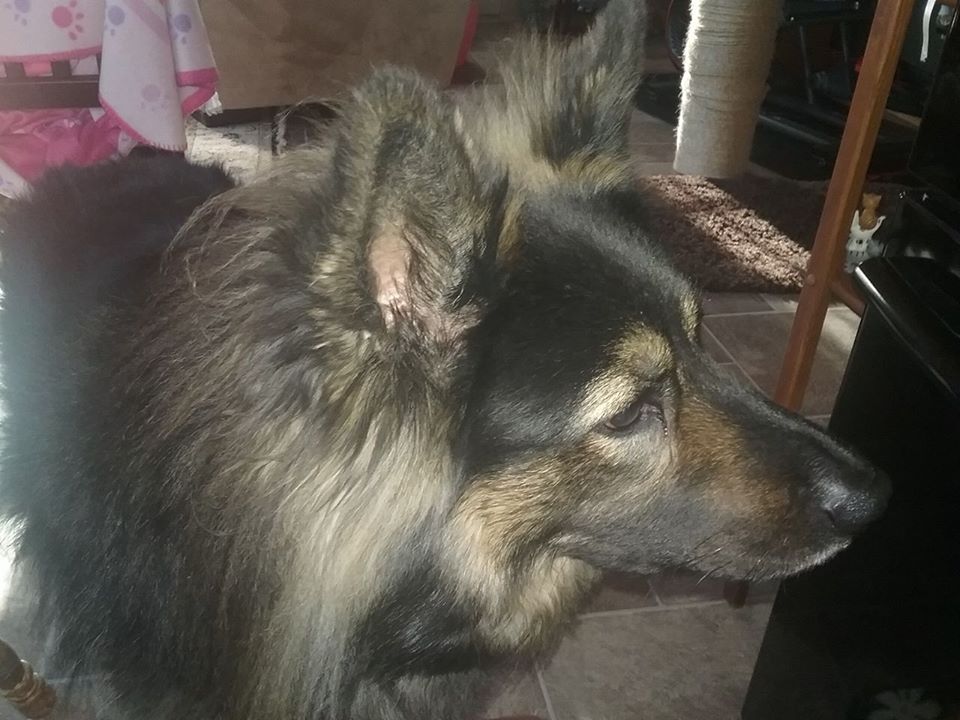 She remembered then! And that's why I am still alive to give you my report! I love my work!
Samson
With love from all of us at FluffyPaws Pet Luv, we wish you a warm and sunny Spring!